According to data from a popular crypto analytics platform, close to $1 billion worth of Ethereum has been released via Coinbase in the last 10 hours!
$1 billion Ethereum exit from Coinbase!
According to data from a popular crypto analytics platform, institutions have bought nearly $1 billion worth of Ethereum via Coinbase and pulled it into cold wallets!
About eight hours ago, Ki Young Ju, founder and CEO of blockchain and crypto analytics platform CryptoQuant, shared a chart on Twitter showing that massive amounts of ETH (395,903 tokens) were withdrawn from Coinbase, the largest US-based cryptocurrency exchange.
According to the analytics firm, blockchain data shows that nearly $1 billion in ETH was purchased and withdrawn to a cold wallet from Coinbase, the largest US crypto exchange, which became a public company through direct listing on the Nasdaq.
This is a pretty rare bullish signal. Might be OTC deals for institutional investors.$ETH https://t.co/BBZ9NfDwIK

— Ki Young Ju 주기영 (@ki_young_ju) June 9, 2021
CryptoQuant data also overlaps with data from the popular whale tracking bot Whale Alert. (Meanwhile, Ethereum exit of 395,903 corresponds to $985,410,485 from the current price of $2,519.)
Ki Young Ju attributes this massive ETH exit to institutional OTC deals. And he sees this Ethereum exit from Coinbase as an important bullish signal.
Namely, qualified investors in the US rely on Coinbase to buy crypto and often withdraw their purchased tokens back into their custodian wallets. 
Thus, increasing crypto fund outflows from Coinbase indicates that large buyers in the US are buying crypto. This is also seen as a strong bullish signal by many experts in the industry as well as Ju.As a matter of fact, in May and April, institutions had withdrawn huge amounts of Bitcoin from Coinbase to their cold wallets, accelerating the bull run of the largest crypto.Currently, the Ethereum's market value of $ 292 764 456 172 'dir. This corresponds to almost half of Bitcoin's market cap ($633,180,296,398).
Bloomberg senior commodities expert Mike McGlone believes that with this important metric, Ethereum's market cap could surpass BTC, as Ethereum has a stronger foundation and use case in the future.
Whales carried around $2 billion worth of Ethereum!
Popular crypto whale tracker Whale Alert reported that an incredible amount of ETH (789,052) was moved by unidentified whales 10 hours ago.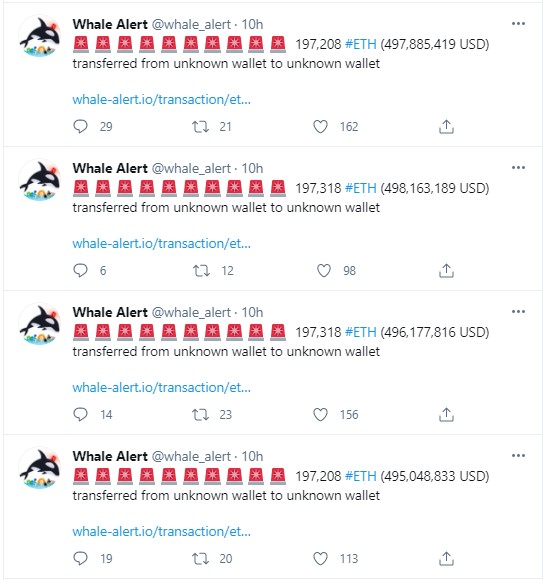 The value of these tokens in fiat currency is equivalent to $1.98 billion. Massive amounts of Ethereum were moved in four transactions, each of which moved 197,000 ETH.